Published: 22 June 2022

22 June 2022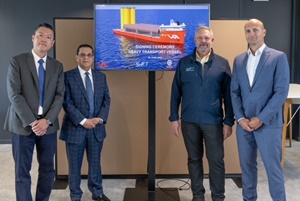 Vallianz joined forces with Ulstein Design & Solutions, Shift Clean Energy and Bureau Veritas to collaborate on the design and construction of a heavy transport vessel (HTV) for the global offshore wind industry.
The HTV will be deployed for the transportation of structures such as monopiles, jackets, transition pieces and turbine blades to support offshore wind farm projects, as well as heavy structure modules for LNG and carry out floatover operations of offshore structures.
The DP-2 vessel will be driven by a hybrid power system consisting of alternative dual fuelled engines and a fully-classed battery energy storage system. In addition, the HTV features the Ulstein X-Bow. With an overall length of 173.6 meters, the customised Ulstein HX120 design will have a free deck length of 145 meters. With her ldeck area of more than 6,000 square meters and deck strength of 25 tonnes per square meter, the new HTV can carry cargoes of up to 32,000 metric tonnes.
The design of the HTV is developed by the Dutch design office of Ulstein Group, which is headquartered in Norway. The HTV's electric battery system is to be provided by Canadian-based Shift, while the vessel will be classed by Bureau Veritas.
Construction is expected to take up to 26 months, with planned completion by the end of 2024.