Published: 14 September 2021

14 September 2021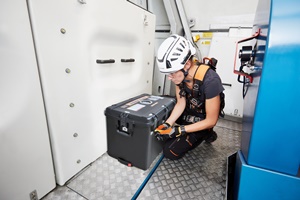 Skylotec has presented the Endurance Pac, which allows life-saving equipment to be stored for up to 30 years if checked regularly. The central content of the Endurance Pac is a centrifugal braked rescue device from the Milan product line.
This enables safe and hands-free abseiling at constant speed. Two employees can use them to abseil down simultaneously outside the tower if a descent inside is no longer possible. The storage box is tested according to military standard 810G and can withstand the extreme weather conditions that can prevail in offshore wind farms. In addition, direct weather influences inside the box are excluded, and the natural ageing process of the materials inside the box is slowed down. The Endurance Pac is completely air-tight throughout its entire service life and is also resistant to UV radiation, water, solvents, corrosion, fungal or impact damage.