Published: 23 October 2020

23 October 2020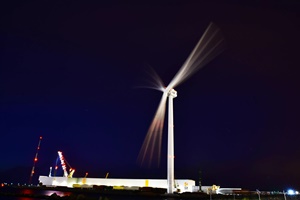 GE Renewable Energy has announced that its Haliade-X prototype has being optimised and is now operating at a 13MW power output. During the following months, this prototype will undergo a series of tests to perform different types of measurements and obtain its type certificate in the coming months.
The Haliade-X 13 MW, which is an uprated version of the prototype that has been operating in Rotterdam (the Netherlands) since November 2019, recently secured its provisional type certificate. This uprated 13 MW Haliade-X version will continue to feature 107-meter long blades and a 220-meter rotor and will be able to generate 4% more Annual Energy Production (AEP) than the previous 12 MW version of the prototype.