Published: 28 May 2021

28 May 2021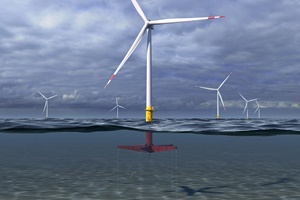 GE researchers unveiled details of an ongoing two-year, $4 MM project through the ARPA-E's ATLANTIS (Aerodynamic Turbines Lighter and Afloat with Nautical Technologies and Integrated Servo-control) program to design and develop advanced controls to support a 12MW Floating Offshore Wind Turbine.
GE is partnering on the project with Glosten, a US design and consulting firm in the marine industry, and the developer of the PelaStar tension-leg platform floating wind turbine foundation. By coupling a 12MW GE turbine with Glosten's tension leg platform technology, the team has taken on the challenge of designing a light-weight Floating Turbine with up to 35% less mass in the tower and the floating platform. The core principle that makes this possible is co-designing the controls system with the tower and floating platform.