Published: 05 May 2022

05 May 2022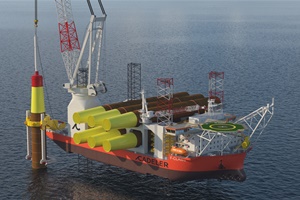 Cadeler has completed a private placement of 26,175,532 shares at a price of 32.32 NOK per share for gross proceeds of 846 million NOK (86 million EUR).
The net proceeds will be used to finance the down payment on a newbuild foundation installation vessel, the so-called F-class vessel, with an estimated cost of 343-347 million USD, which is expected to be delivered in Q4/2025. Cadeler also aims to secure an option for a second F-class newbuild. The F-class will feature a hybrid design, allowing the vessel to convert from being a foundation installation unit to a wind turbine generator (WTG) installation vessel within a short period of time. The F-class will be able to transport up to six XL monopiles (weight 2,300-2,600mt each) per round-trip.