Published: 25 April 2023

25 April 2023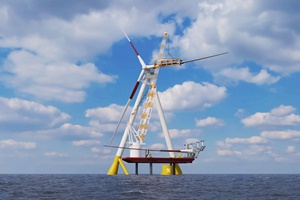 Fred. Olsen 1848 is developing an O&M solution and operational procedure for component exchange that is optimised for the floating foundation Brunel.
The Brunel Maintenance Solution will enable component exchange directly at the floating offshore wind site in a safe and cost-efficient manner. Fred. Olsen 1848 is designing a solution that features a barge fitted with both a jacking system and a compatible crane that attaches itself to the BRUNEL foundation. The geometry of Brunel, with a dual tower setup, a water depth clearance of ~10 meters above the pontoons, and a large water plane area inside the base triangle of BRUNEL, allows for a jack-up barge to enter from the side of the foundation, towed in by regular tugs, and mobilize for lifting operations. The barge will jack down and affix on the top of the pontoons.