Published: 26 April 2023

26 April 2023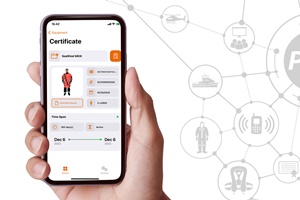 Survitec HeliPPE has announced the launch of a new app that aims to digitally transform Personal Protective Equipment (PPE) control for offshore technicians and managers. The app is designed to streamline the tracking, management, and maintenance of individual and team equipment for transfer to offshore wind facilities and while on the turbine.
Providing a complete overview of issued equipment and associated documents, the app makes it easier to keep track of essential PPE details such as serial numbers and renewal dates. Technician's training certificates can also be added. Compliance is supported with transparent certification monitoring and expiring product alerts. An integrated traffic light system displays on the app if the technician's training is in date and equipment is compliant for use. In addition, the app has a supporting web function for team managers. Survitec HeliPPE is now rolling out the app with all PPE rental orders.