Published: 05 May 2022

05 May 2022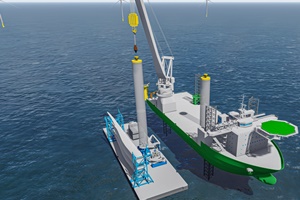 Deme Offshore US has taken a step forward in the further development of a US Jones Act compliant feeder solution for the upcoming offshore wind projects by entering into a five year agreement with Barge Master.
The two companies will work closely together to develop motion compensation technology which will be deployed in a feeder concept on the Vineyard Wind 1 project. The Barge Master concept is based on using technology, whereby control systems and cylinders are supporting a platform and actively compensating the motions of the barge. Deme Offshore US is partnering with US company Foss Maritime for the development of the feeder barge concept to ensure that it is fully compliant with the Jones Act. Four motion compensation platforms will be installed on the US- flagged Foss Maritime barges.