Published: 05 May 2022

05 May 2022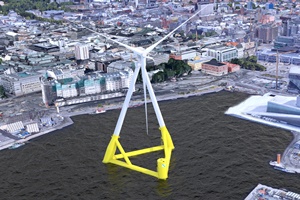 Fred. Olsen 1848 has launched the Floating Foundation Brunel. Brunel is a semi-submersible structure, designed for harsh north-sea conditions, with a modular design based on steel tubulars, as known from monopiles and wind towers.
Brunel has a focus on serial and automised mass production to enable manufacturing and assembly at a volume needed for the floating giga parks. The modular design enables Brunel to leverage the existing global supply chain and helps create a sustainable industry. A final tank test successfully was completed at SINTEF Ocean in February 2022. In parallel, Brunel received DNV's statement of feasibility in April 2022. With the tank test and DNV statement of feasibility, Brunel has reached Technological Readiness Level 4 (TRL 4). Working with SINTEF Ocean, a Physical-Numerical Validation Approach will be applied to demonstrate and qualify Brunel according to standard procedures from Oil & Gas and maritime, i.e., exempting the need for piloting and full-scale demonstration. Through this process, Brunel will reach TRL 8 at an accelerated pace and will be ready for commercial application within 3 years.