Published: 02 May 2022

02 May 2022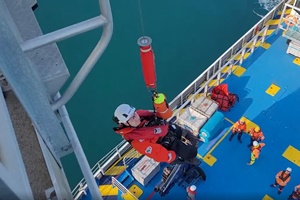 Ørsted has completed the first operations transfers with our access system 'Get Up Safe' (GUS) at Hornsea 2 in the UK. The GUS system, developed in partnership between Ørsted and Pict Offshore, is a motion-compensated hoist solution that enables technicians to transfer between small moving vessels and offshore wind turbines.
The technology ensures that technicians don't have to step from a moving boat onto a ladder and then climb up to 20 metres to reach the base of the wind turbine. Instead, they can clip onto the system and be safely and effortlessly hoisted up to the turbine base directly from the boat.
The system's motion compensation also means that the hoist automatically adjusts the line position to take the boat's movements into account, so that even in periods of high and varying wave heights, there's no danger of collision for the technician.
From 2017, prototypes of the system were tested at the Offshore Renewable Energy Catapult's 7 MW Levenmouth Demonstration Turbine in Scotland. Further offshore trials of the system have been hosted at Ørsted sites in UK waters, followed by testing and validation of serial-produced systems, and trials and training for users.