Published: 10 February 2021

10 February 2021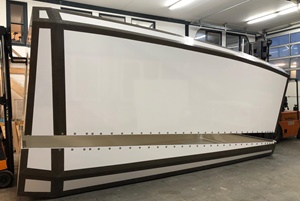 Sicomin, a formulator and supplier of bio-epoxy resin systems, has announce its latest collaboration with Greenboats as they deliver the first ever natural fibre composite (NFC) nacelle for an offshore wind turbine. Working with German distributor Time Out Composites, Sicomin has provided GreenPoxy bio-based resins, intumescent FR gelcoats and UV resistant clear coatings for the new nacelle.
In 2020, Greenboats was commissioned by a wind turbine manufacturer to design and manufacture a sustainable NFC nacelle. The resulting 7.3m long structure has a surface area of approximately 100m2 and was engineered by Greenboats to satisfy all DNV-GL load cases required for an offshore turbine nacelle, including 200km/h max wind loads and 2KN loads on the guard rails.
Sicomin's DNV-GL type approved bio-based epoxy was used to infuse BComp flax fibre reinforcements and balsa cores, with Sicomins' intumescent weatherproof gelcoat applied on the outer surface. Cured panels were cut to shape, formed over a male plug and bonded together, before flax reinforcement plies, hand laminated with GreenPoxy resins and vacuum bagged, were added along all the panel joints lines. Finally, Sicomin's highly UV resistant clear coating products were used to protect and enhance the finish of the flax fibre feature stripe details.
The next stage of the project, in which the nacelle will be installed for tests in the harbour of Rotterdam (the Netherlands), is planned for spring 2021. Afterwards the nacelle will be installed at its long-term offshore location.