Published: 27 January 2022

27 January 2022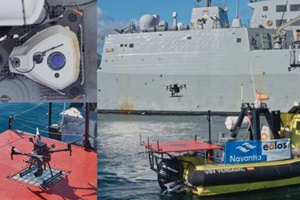 Three Spanish companies, Navantia, Eolos Floating Lidar Solutions and Alerion, together with the University of Seville have completed pilot and demonstration tests in the Port of Ceuta focused on developing technology and services based on unmanned vehicles for the inspection and diagnosis of offshore wind farms.
The port of Ceuta, where Navantia's Unmanned Service Vehicle USV Vendaval has been operating since 2019, has been the platform for tests in which Navantia technologies have been combined with data acquisition systems operated by Eolos, the autonomous drone technology developed by the University of Seville and the industrial drone for wind turbines inspection provided by Alerion.
These tests have confirmed the proper operation and performance in real environment conditions of autonomous unmanned vessels working jointly and collaboratively with LiDAR and meteoceanic sensors in combination with autonomous drones. Through this unmanned platform, it will be possible to automate a large part of the processes and reduce human activity.