Published: 31 January 2022

31 January 2022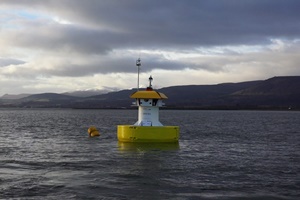 Oasis Marine Power have completed the first stage of testing of their offshore charging station. The Oasis Power Buoy is an offshore mooring and charging station with a zero-emission power source fed from wind turbines.
Initially aimed at Wind Farm Crew Transfer Vessels (CTVs) the Oasis Power Buoy provides the need for offshore charging of hybrid and all-electric vessels. Current diesel-powered maintenance vessels are responsible for the majority of C02 emissions from an operational wind farm. The Oasis Power Buoy makes zero-emission vessels viable for the industry. Sea trials were held in the Port of Cromarty Firth, Scotland during January 2022 in the first of a series of tests. The Oasis Power Buoy will now be undergoing further testing and optimisation, including sustained sea trials.