Published: 28 January 2022

28 January 2022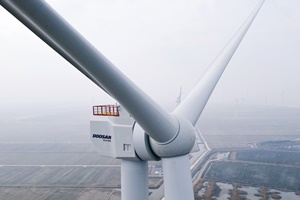 Doosan Heavy has announced that it has completed the installation of the 8MW direct drive offshore wind turbine prototype at the Korea Wind Power Demonstration Center in Baeksu, Yeonggwang, South Jeolla province, South Korea.
The commissioning process will be initiated at the end of this month, after which international certification for the wind turbine will be obtained and final preparations for commercialisation will be completed in June. The 8MW offshore wind turbine has been developed as an industry-academia-research sector cooperation project led by the Korea Institute of Energy Technology Evaluation and Planning (KETEP) since 2018. The 8MW wind turbine features a 100-meter blade and a tower that is 130 meters high. The total height of the turbine is 232.5 meters.