Published: 28 January 2022

28 January 2022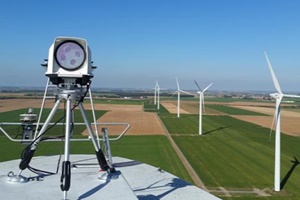 Leosphere, a Vaisala company, has announced in collaboration with DNV that the enhanced WindCube Nacelle has received full classification according to the new IEC standard for nacelle-based lidar.
The latest enhancements deliver:
Cloud-based WindCube Insights – Fleet facilitates remote system configuration, monitoring, and data access for a single lidar or a fleet. In addition, both WindCube vertical-profiling lidars and WindCube Nacelle lidars can be managed from a single software platform.
Rotor Equivalent Wind Speed (REWS) lidar data output provides accurate rotor-averaged wind speed. This additional value to the standard hub-height wind speed is particularly useful to understand and enable further detailed analysis of most modern, large rotor turbines.
A Vaisala integrated weather sensor, directly mounted on the nacelle-mounted lidar, provides air pressure, temperature, humidity, and rain/hail data for air density-corrected Power Performance Testing (PPT) that offers valuable insights into the overall performance of wind turbines.
Adaptable mounting options, in addition to the standard tripod, provide more flexibility for installation on any turbine type.