Published: 03 December 2021

03 December 2021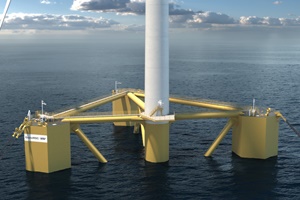 DNV has completed a Concept Verification and Technical & Commercial Assessment of GustoMSC's Tri-Floater, a floating offshore wind turbine foundation.
DNV's Concept Verification confirms the technical feasibility and compliance with the relevant design standards. The GustoMSC Tri-Floater is a triangular semi-submersible with an offshore wind turbine column at the centre of one of its sides. The semi-sub structure is modular and can be tailored to fit any desired wind turbine. The completed Technical and Commercial Assessment is an overall review of the concept from a 'bankability' perspective, taking into account evaluation of the concept with regards to fabrication, transport, installation and operation phases. The focus of GustoMSC Tri-Floater design lays on easy manufacturing, optimising for local and global supply chain, operations and maintenance.