Published: 12 February 2021

12 February 2021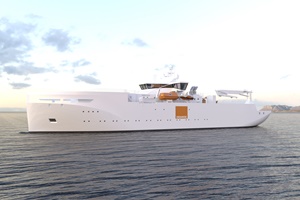 Vard (Norway) has announced that Orange Marine (France) has selected a ship design from Vard's design portfolio when expanding their fleet of cable vessels. This time specifically designed to its purpose of fibre-optic cable repair.

Orange Marine has for the second time chosen Vard as their preferred vessel design when adding a cable repair vessel of Vard 9 03 design to their fleet. The vessel will be built by Colombo Dockyard (Sri Lanka). The Vard 9 03 design for Orange Marine is specially designed for the maintenance of submarine cables, both fibre-optic telecommunication cables and inter-array power cables used in offshore wind farms.