Published: 30 June 2020

30 June 2020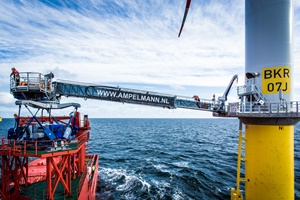 Ampelmann has secured five new contracts in offshore wind over the course of a month with Norwegian companies BOA, Volstad, Olympic Shipping, Siem Offshore and DOF. The company will provide two A-type and three E1000 systems, which will aid the installation and maintenance work at offshore wind farms in the North Sea.
In total, this will add up to 380 days of firm work, with possibilities to extend. These new projects have all been secured by the company's offices in Hamburg and Aberdeen. The A-type is the company's solution for people transfer offshore in sea states up to 3 metre significant wave height. The E1000 is a heavier system with a wider range and can be used for both personnel and cargo.