Published: 28 June 2021

28 June 2021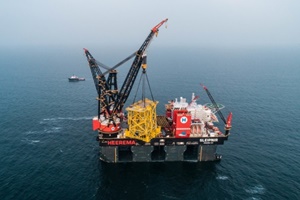 The second jacket of TenneT's offshore transformer platform for the wind farm Hollandse Kust (zuid) has arrived at its final destination and has been installed, some 22 kilometres off the coast of The Hague, the Netherlands.
The 2,852-tonne heavyweight was placed on the bottom of the North Sea by a special lifting vessel (the Sleipnir) of the Dutch company Heerema, on behalf of main contractor Petrofac.
The jacket is 50 metres long, 34 metres wide and 44 metres high and is anchored to the seabed by six piles, each weighing 162.5 tonnes. The 57.7 metre long piles were drilled 46.5 metres into the seabed. The jacket was then attached to the piles. Together, this forms the foundation for one of the two transformer stations for the wind farm Hollandse Kust (zuid). The transformer platforms will have a capacity of 700MW each. The first jacket for the Hollande Kust (zuid) wind farm has been installed in the North Sea in September last year. The wind farm is developed by Vattenfall, in co-ownership with BASF.
The transformer station (topside) itself will be lifted onto the first jacket at the end of this year. The topside of the second jacket is expected to follow early next year. Once the topsides have been lifted onto the jacket, the last systems will be connected, tested and put into operation. The cables of the wind turbines will then be connected and the wind farm is expected to be fully operational in 2023.