Published: 29 June 2021

29 June 2021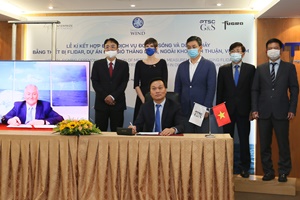 Fugro and PTSC G&S have signed a contract with Enterprize Energy Group to supply, install and operate a Seawatch Wind Lidar Buoy at Vietnam's Thang Long Offshore Wind Farm site.
From July 2021, the device will record continuous measurements for an initial period of 1 year to support wind resource mapping. The buoy will use Fugro's Seawatch Wavescan Buoy platform, which has integrated ZX 300M lidar. Fugro and PTSC G&S will provide monthly Geo-data reports to support the validation of the area's wind resources. The buoy will also capture a suite of metocean Geo-data, including air pressure, humidity, air and water temperature, wave height and full-column current measurements, to support the future wind farm's engineering and design.