Published: 24 June 2021

24 June 2021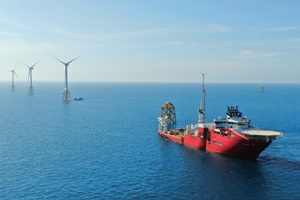 Jan De Nul Group has completed the installation of all 21 offshore wind turbines for the 109.2 MW Taiwan Power Company Offshore Windfarm Phase 1 Project – Demonstration, including the installation of all subsea cables.
The project teams of Jan De Nul and Hitachi now proceed with the termination and commissioning process of the complete offshore wind farm. The project was kicked off in September 2018 with the preparatory onshore cable works. On 12 June 2021, Jan De Nul's Offshore Jack-Up Installation Vessel Taillevent successfully completed the installation of the last 5.2 MW Hitachi wind turbine for Taiwan Power Company (TPC). Each 5.2 MW wind turbine is installed on a jacket foundation with transition piece, anchored to the seabed using four steel pin piles, and equipped with wind turbines with a downwind rotor.