Published: 17 June 2022

17 June 2022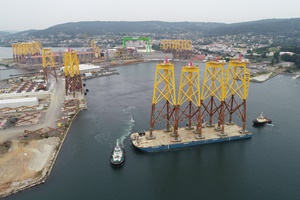 Iberdrola started on Wednesday the transfer of the first jackets for its offshore wind farm in Saint Brieuc, Brittany, France, from the Navantia Seanergies shipyard in Fene (A Coruña) where the Navantia-Windar consortium is building these structures to support the wind turbines.
These are the first four jackets of the total of 62. The foundations will be transported in a 122-metre-long barge of the company Van Oord. They are expected to arrive at their destination in the port of Brest in approximately three days. The Saint-Brieuc foundations rest on three legs. Each of them is up to 75 metres high, 25 metres wide and weighs 1,150 tonnes. Iberdrola uses a hydraulic device called pile grippers to fix these jackets, which provides additional fixation and stability during the installation phase. Installation is expected to begin in the coming months.