Published: 29 June 2020

29 June 2020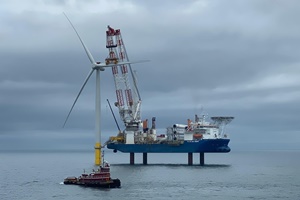 Dominion Energy has announced the successful installation of the two turbine, 12MW Coastal Virginia Offshore Wind (CVOW) pilot project 27 miles off Virginia Beach, USA. The first offshore wind farm to be approved by the Bureau of Ocean Energy Management (BOEM) and installed in federal waters, and second constructed in the USA, was built safely and on schedule.
The turbines will now undergo acceptance testing before being energised later this summer. Ørsted is serving as the offshore engineering, procurement and construction lead for the project. The pilot project was first announced three years ago and received Virginia State Corporation Commission approval in November 2018. Onshore construction of the electrical interconnection facilities and the half-mile conduit which holds the final stretch of cable connecting the turbines 27 miles off the coast to a company substation near Camp Pendleton commenced last summer and was completed earlier this year.