Published: 22 June 2021

22 June 2021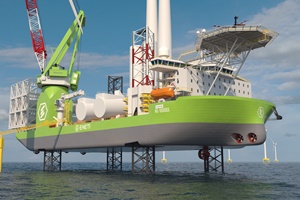 NOV has been awarded contracts for the design and the supply of equipment for its GustoMSC NG-16000X design, which is a wind turbine installation jack-up vessel for Eneti. The contract provides an option for an additional jack-up vessel.
The NG-16000X is a self-propelled turbine installation jack-up vessel design. The vessel is from the same series with the first US-built NG-16000X and is ready to carry multiple 20MW turbines. The vessel has been designed with the option to adapt the vessel in the future, allowing it to operate on the alternate liquified natural gas or ammonia fuels.
The jack-up vessel will be built by Daewoo Shipbuilding and Marine Engineering (DSME) for scheduled delivery in Q3 2024. The GustoMSC NG-16000X includes the GustoMSC Rack & Pinion jacking system with a variable speed drive. The jacking system will have a regenerative power option were the generated power is fed back into the vessel system. The design further incorporates a 2,600-t leg encircling crane, ready to install the future size monopile foundations and wind turbines.