Published: 15 June 2022

15 June 2022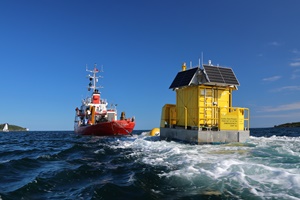 Two wind measurement buoys have been deployed in the UK Celtic Sea, between Cornwall and Wales. The Floating LiDAR systems will provide data to pave the way for the strategic development of floating offshore wind (FLOW) in the Celtic Sea, which the Crown Estate has earmarked for up to 4GW of new clean energy capacity by 2035.
The project is being led by Celtic Sea Power under the £6 million Cornwall FLOW Accelerator program (part-funded by the European Regional Development Fund). The Windsea floating LiDAR (Floating Laser imaging, Detection and Range) systems, provided by French company Akrocean, have been positioned around 60 miles offshore and use laser technology to measure wind speeds and direction. Additional meteorological and oceanographic data will also be collected. The data will build a picture of the wind profile out to sea and form a broad-scale wind resource model. The buoys, which are 5.1m high and 2.4m wide, were deployed out of Falmouth by specialist marine contractors Keynvor MorLift. They are expected to remain offshore for one year.