Published: 08 June 2022

08 June 2022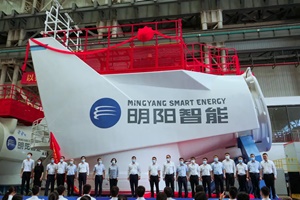 Mingyang Smart Energy celebrated the rollout of the first MySE 12MW hybrid drive offshore wind turbine at its manufacturing base in Shanwei, Guangdong, China.
The MySE 12MW is an upgrade of the 11MW platform. Compared to the 11MW, the lubrication system has been optimised and co-shared by the gearbox and generator. The multi-sensor wind measuring system enables intelligent and precise yaw control, aiming to lower the unit load and improve the power output. The MySE 12MW is certified by the China General Certification Center (CGC). The turbine is designed to withstand super typhoons of 78.82 m/s and is applicable to over 98% of China's sea areas, as well as overseas markets such as Europe.