Published: 13 October 2020

13 October 2020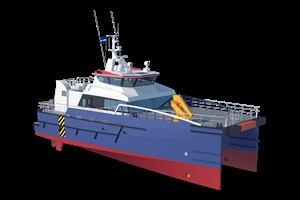 Damen Shipyard's Group Fast Crew Supplier 2710 has received an approval in principle from ABS. This is a necessary step towards Damen's crew transfer vessel being used to support the developing US offshore wind industry.
To achieve the approval, Damen has modified the design of its standard FCS 2710 to meet the US requirements. Waterjets are now incorporated, driven by engines that are compliant with US Environmental Protection Agency regulations. The FCS 2710, over 65ft in length, features Damen's Sea Axe hull form – here in Twin Axe formation.