Published: 16 March 2022

16 March 2022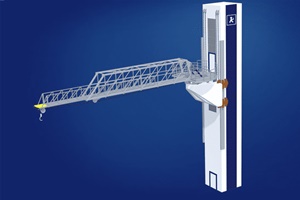 Ampelmann has sold its W-type gangway system to offshore shipping company Olympic Offshore Wind. The system will be installed on the Olympic Orion in early 2023 when the vessel will complete its conversion to a Commissioning Service Operation Vessel (CSOV).
Tailor made to individual vessels, the system is electric, height adjustable and contains a lift and crane that can carry cargo and personnel and it can compensate for vessel motions in sea states up to 3.5Hs. Alongside the new system, Ampelmann will provide operator training and 24/7 support through the company's Operation Control Centre (OCC).