Published: 17 March 2022

17 March 2022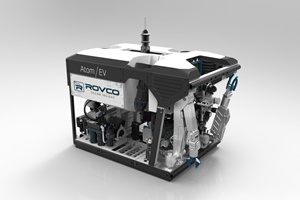 Subsea equipment manufacturer Soil Machine Dynamics (SMD) and Rovco have signed a Letter of Intent (LOI) for next generation EV Work Class ROV (WROV) technology.
SMD will provide Rovco with a new Atom EV high performance electric WROV, which will be the first of a fleet of vehicles designed to interface with Rovco's latest computer vision and AI capabilities. The Atom EV WROV is able to operates in 3 knot water currents and the adaptive onboard flight control interfaces with Vaarst technology, a technology spin-off of Rovco. The Atom EV WROV will be paired with an all-electric launch and recovery system from MacArtney.