Published: 12 June 2020

12 June 2020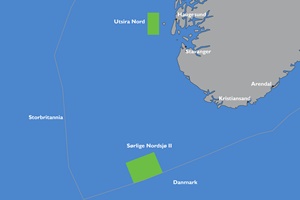 By royal decree, the areas "Utsira Nord" and "Sørlige Nordsjø II" in Norway are opened for offshore renewables, including offshore wind power. These two areas will now be available for applications for offshore renewables:
Utsira Nord is located to the west of Haugesund, and is suited for floating wind power, which is the most interesting technology from a Norwegian perspective. The area is also large, 1010 square kilometres, close to shore and provides opportunities for demonstration projects and larger projects. Utsira Nord's size provides room for adapting to other interests in the licensing process. The ministry proposes to open this area to facilitate the development of such technology.
Sørlige Nordsjø II borders the Danish sector in the North Sea, and is relevant for direct export of electricity. The area is 2591 square kilometres, has depths which makes it possible to develop bottom-fixed wind power here, but floating solutions could also be relevant.
The areas will open on 1 January 2021, and limits have been set on the amount of wind power that can be developed in the areas. Combined, the two areas allow for the development of 4 500 MW of wind power.