Published: 15 January 2020

15 January 2020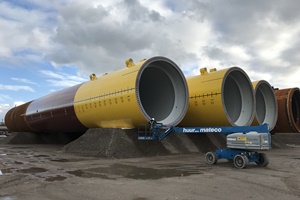 During 2020, the project team will aim to install 90 bespoke monopile foundations and transition pieces, along with two offshore substation platforms (OSPs) and their foundations, as well as over 600 kilometres of sub-sea export and array cables.
The vessel fleet that will carry out the installation has already begun to mobilise and will look to install the first foundations as soon as the weather conditions are favourable.
A fleet of vessels, many operating out of Grimsby's Royal Dock, will support the construction of the wind farm. The offshore fleet will be dominated during 2020 by the 183 metre long installation vessel Seaway Strashnov, as well as the Service Operation Vessel (SOV) 'Esvagt Froude. In 2021, the focus of construction will shift to the installation and energisation of the 9.5MW turbines, with Triton Knoll anticipating the first electricity to flow from the wind farm into the UK National Grid later that year.
Triton Knoll Offshore Wind Farm is a 857MW offshore wind farm, located over 32 kilometres off the Lincolnshire coast, with a turbine array that covers an area of 145 square kilometres. innogy is a 59% owner of Triton Knoll Offshore Wind Farm along with J-Power (25%) and Kansai Electric Power (16%). innogy is also managing the wind farm's construction and long term operation and maintenance works, on behalf of its project partners.