Published: 14 January 2020

14 January 2020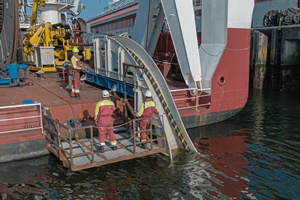 NKT has been awarded a five-year service agreement by the Irish power grid operator EirGrid for cable related services including repair works for the East West Interconnector.
The 200 kV HVDC power cable with capacity of 500 MW between Ireland and Great Britain is connecting the countries power grid ensuring the high transmission security needed to power modern life. The service work will be carried out in accordance with a tailored preparedness plan designed by NKT to reduce the potential outage time in case of unexpected damages to both the onshore and offshore parts of the East West Interconnector. For EirGrid the contract with NKT is a natural step in the ongoing focus to integrate renewable energy in the transmission system.