Published: 18 December 2020

18 December 2020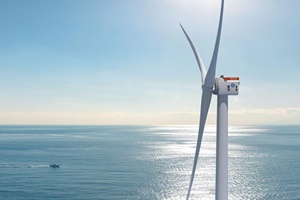 Dogger Bank Wind Farm and GE Renewable Energy have confirmed GE as preferred turbine supplier for Dogger Bank C, announcing at the same time plans to use the upscaled 14MW Haliade-X turbine for this phase. The 14MW Haliade-X is an upscaled version of the 13MW Haliade-X.
The Turbine Supply Agreement and Service and Warranty Agreements for Dogger Bank C will be finalised in the first quarter of 2021, confirming the order and number of turbines and marking continued progress in the delivery of the third phase of the wind farm. These agreements will be subject to Dogger Bank C, which is a joint venture between SSE Renewables and Equinor, reaching Financial Close in late 2021. Installation of the turbines for Dogger Bank C is set to begin in 2025 ahead of completion of the overall project in 2026. GE is now confirmed as supplying Haliade-X turbine technology to all three phases of Dogger Bank Wind Farm including an order for 190 units of GE's 13MW Haliade-X for phases A and B.