Published: 22 December 2020

22 December 2020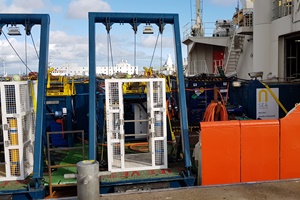 N-Sea Renewable and Utilities Services (N-Sea RUS), part of N-Sea Group as part of a consortium with SeaRenergy Offshore Holding have completed a project to engineer, supply and install a retrofit subsea cable protection system (CPS) for an HVDC grid connection ooperated by Tennet in the North Sea.
SeaRenergy provided engineering services, developed the installation procedure, and assisted in obtaining the necessary approvals. N-Sea were responsible for the project management, procurement and installation of the CPS, including the supply of equipment, project personnel and vessel chartering. The retrofit installation needed to be performed subsea by divers under difficult weather conditions but as efficient as possible, in order to minimize downtime of the client's grid access system.