Published: 21 December 2021

21 December 2021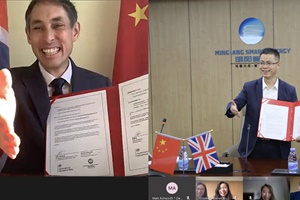 MingYang Smart Energy and the UK Department for International Trade (DIT) have entered into a memorandum of understanding (MOU) for the China-based company to invest in the UK's offshore wind industry.
The agreement will focus on MingYang's investing in a blade manufacturing factory, a service centre and a turbine assembly factory in the UK. Following this MOU, both parties will work together to complete a final investment agreement of the above-mentioned factories once all pre-conditions are fulfilled. Furthermore, MingYang and DIT will collaborate to explore other market entry options in the UK, including wind turbine testing, offshore wind demonstration projects and pre-commercial wind farms.