Published: 19 August 2016

19 August 2016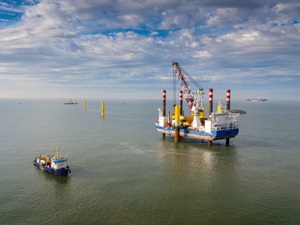 After the assembly of all 18 foundation structures, conversion of the installation ship, the MPI Enterprise, for erecting the wind turbines in the Weser estuary began at the beginning of August. The first Senvion turbine of type 6.2M126 was successfully installed on 16 August 2016.
wpd is also announcing that it has sold a 30 percent stake in the wind farm to the John Laing Group plc. Funding for the project was concluded in June 2015 with the participation of the European Investment Bank and KfW IPEX. Besides wpd and John Laing, the Gothaer insurance group has also been acting as an equity provider since the end of last year.