Published: 28 July 2017

28 July 2017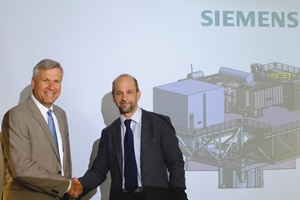 Heerema Fabrication Group has been awarded the Procurement & Construction contract of the Albatros Offshore Transformer Module (OTM) by Siemens. The OTM is part of the Albatros offshore wind farm which will feature 16 7MW Siemens Gamesa wind turbines and is located 105 kilometres from the coast in the German sector of the North Sea.
The OTM will have a weight of about 1000 tonnes. Siemens will deliver the electrical equipment which will be placed at the topside. Construction is due to start in the first quarter of 2018 at the Heerema yard in Zwijndrecht, the Netherlands, in order to be ready for sail away first quarter 2019. The OTM, with a transmission capacity of 116 MW, is one of the main components of the offshore grid connection.