Published: 31 July 2017

31 July 2017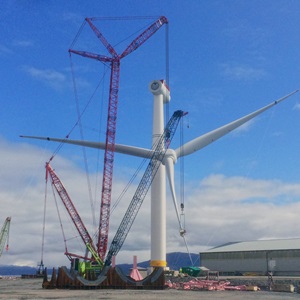 Mammoet recently completed the assembly of the first five test turbines that will be used at Hywind Scotland Pilot Park. The turbines were assembled at the NorSea Group's Stordbase yard at Stord, Norway. Mammoet was contracted by NorSea Group AS for the lifting and transport operations conducted onshore at the yard.
Each of the 6MW wind turbines had been shipped to Stord in 9 separate components. At the yard, Mammoet assembled them using an LR 11000 crawler crane as main crane and 24 axle lines of SPMTs. When the assembly and outfitting was completed, a Crane Vessel transported the 1150 ton assembled turbines to the floating foundation in the fjord. After the turbines have been installed on the foundations and finally prepared, they will be towed across the North Sea to their final destination. The Hywind Scotland Pilot Park is a 30MW wind turbine farm located 25 kilometers off the coast of Scotland.