Published: 19 February 2018

19 February 2018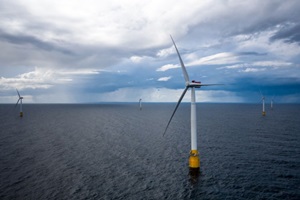 During the winter, when the wind is at its strongest, the typical capacity factor for an bottom fixed offshore wind farm is 45-60%. By comparison, Hywind Scotland achieved an average of approximately 65% during November, December and January, i.e that the wind farm was producing 65% of max theoretical capacity.
Hywind Scotland's first encounter with harsh weather conditions was the hurricane Ophelia in October when wind speed of 125 kilometers per hour (80mph) were recorded. These wind speeds were surpassed during Storm Caroline in early December when gusts in excess of 160 km/h (100 mph) and waves in excess of 8,2 meters were recorded. Whilst the wind turbines were shut down for safety reasons during the worst of these winds, they automatically resumed operation promptly afterwards. A pitch motion controller is integrated with the Hywind turbine's control system and will adjust the angle of the turbine blades during heavy winds which mitigates excessive motions of the structure. Statoil and Masdar are having an ambition to reduce the costs of energy from the Hywind floating wind farm to 40-60 €/MWh by 2030 and Statoil is actively looking for new opportunities for the Hywind technology.