Published: 11 June 2018

11 June 2018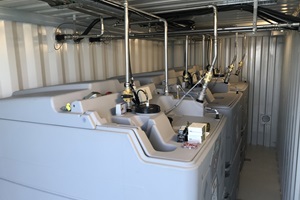 As part of scheduled maintenance activities, b.offshore installed two new tank containers on the platform of the substation on behalf of Deutsche Offshore-Testfeld- und Infrastruktur GmbH & Co. KG (DOTI). b.offshore designed and installed new solutions for the emergency power system on the offshore substation, which was built almost ten years ago and has provided an average feed-in capacity of 242.3GWh per year of operation.
Emergency power systems supply offshore wind farms with electricity to ensure the safe operation of technical components such as air purifiers or the lighting of the navigation aids in the event of a power failure or during maintenance work on the submarine cable connection by the transmission grid operator. The newly installed tank facility consists of two offshore containers (20 ft) fitted with 3 CUBE tanks each. The system has an overall capacity of 15,000 litres. The original steel tanks were replaced with plastic tanks made of polyethylene (LLD-PE).The substation is controlled via the control centre of EWE OSS Offshore Service & Solutions GmbH in Oldenburg. b.offshore GmbH also needed to develop and implement a solution to integrate the new system with the existing control technology.