Published: 18 February 2019

18 February 2019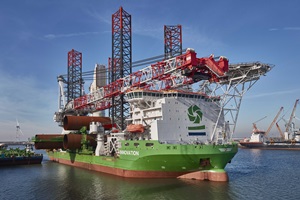 Construction of the EnBW Hohe See and Albatros offshore wind farms is continuing with the help of two new special ships. The Innovation sailed from Eemshaven (The Netherlands) carrying monopiles with a length of around 72 metres. The Innovation will install the foundations in the seabed at the construction site for EnBW Hohe See.

The ship Sea Installer will transport the transition pieces from Rotterdam (The Netherlands) to the construction sote where it will install them onto the monopiles. The first wind turbines are due to be erected in April. Siemens Gamesa has been commissioned to supply and install 87 wind turbines of type SWT-7.0-154 including the foundations. The ship Pacific Osprey already installed 63 of the total of 87 foundations last year. Both wind farms with a combined output of 609MW will be placed into operation by the end of 2019. The project is being coordinated by the offshore branch of EnBW in Hamburg. The Canadian energy infrastructure company Enbridge has acquired 49.9% of the shares in both wind farms. EnBW has retained the remaining 50.1% in both cases.