Published: 24 January 2020

24 January 2020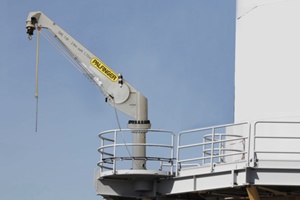 In late December 2019, the Taiwanese offshore wind farm Formosa 1 Phase 2 officially launched commercial operations – and so did 20 new Palfinger cranes. At the same time, Palfinger has also expanded its market presence in the North Sea.

Palfinger has equipped a total of 20 Siemens Gamesa SWT-6.0-154 direct-drive offshore wind turbine platforms with an equal number of the PF9000-2.9 TP cranes. Other ongoing projects on the north-east Asian market include the Yunlin offshore wind farm and Changhua demonstration park project. In addition to north-east Asia, Palfinger has produced a total number of 87 cranes for the Germany Hohe See and Albatros offshore wind farms which also recently launched operations.