Published: 29 October 2018

29 October 2018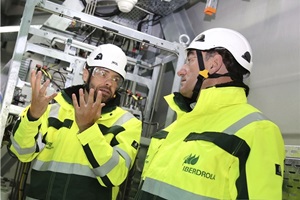 Iberdrola has officially cut the ribbon on Wikinger offshore wind farm, in which the company invested over €1.4 billion. Wikinger is fully operational and its 350MW are connected to the German grid.
To build the project, 280 piles were installed. Measuring 40 metres in length by 2.5 metres in diameter, and a unit weight of 150 tonnes, they were all built by Spanish company Windar. A total of 70 foundations were laid on them, each weighing 620 tonnes, manufactured by Bladt Industries in Lindo (Denmark) and Navantia, at its shipyard in Fene (Spain). The 5MW Siemens Gamesa AD 5-135 turbines were manufactured in the company's plants in Bremerhaven and Stade (Germany). With a total height of 165 metres, they are made up of a 75-metre high tower, a 222-tonne nacelle and a 135-metre diameter rotor, with each blade measuring 67 metres long. Finally, one of Wikinger's key pieces of infrastructure is the Andalucía offshore substation, which will be used jointly by Iberdrola and 50Hertz, an electricity system operator in Germany.