Published: 04 June 2018

04 June 2018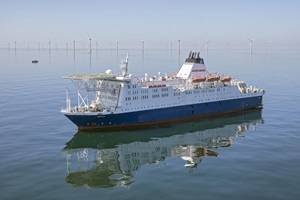 MV Bluefort, a floatel for the wind industry, has arrived at Wikinger Offshore Wind Farm in the Baltic Sea to provide a home for up to 200 workers as they commission the project's 70 Adwen 5MW offshore wind turbines. The newly refurbished 142 metre MV Bluefort will provide accommodation throughout the commissioning phase of the 350MW Iberdrola-owned wind farm, sited some 30 kilometres north-east of the German island of Rugen.
The vessel is supported by four CTVs and will be in operation 24 hours a day seven days a week. Bridgemans Services Group LP (BSG) invested more than € 6 million in a complete refit of Bluefort in 2016. The five-month refurbishment works also included improvements to the CTV landing platform, stern thrusters for better positioning during transfers, helicopter pad, 1000 square metres of office space, a 200 seat briefing theatre, plus meeting rooms and enhanced IT services.