Published: 29 June 2017

29 June 2017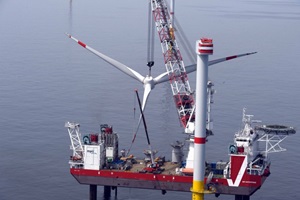 The rotor for the 27th wind turbine was successfully installed last week at the Nordsee One construction site, located approximately 40 kilometres north off the island of Juist. This marks the halfway point for turbine installation at the 332MW wind farm. Turbine installation will continue in parallel with the progressive commissioning of the wind turbines.
All 54 foundation monopiles and transition pieces, as well as the offshore substation and infield cables, were successfully installed in 2016. The project team expects the installation and commissioning of all 54 Nordsee One turbines to be completed by the end of 2017. Once completed, the Nordsee One wind farm will consist of 54 Senvion 6.2M126 wind turbines, with an overall installed capacity of 332MW. Nordsee One is owned by Northland Power Inc. (85%) and innogy SE (15%).