Published: 12 April 2018

12 April 2018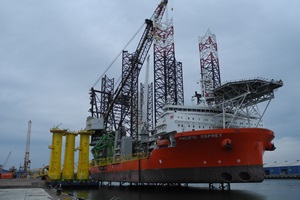 EnBW has started with the construction of the Hohe See and Albatros offshore wind farms in the German North Sea. The ship Pacific Osprey is currently being loaded with the foundations and will soon depart the port of Vlissingen in the Netherlands.
Following a journey to the construction field lasting around 12 hours, the 72 metre long steel pipes will be installed in the seabed. EnBW Hohe See is located 95 kilometres north of Borkum and 100 kilometres northwest of Helgoland, while Albatros is being constructed in the immediate vicinity. In 2018, the foundations and the transformer station for Hohe See will be installed and the cables for the wind farm laid. In 2019, the wind turbines and the transformer station for Albatros will be erected. Both wind farms are due to be placed into operation by the end of 2019.