Published: 26 July 2017

26 July 2017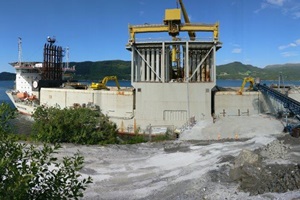 Jan De Nul Group's fall pipe vessel Simon Stevin arrived at the Visnes Eklogitt quarry in Norway. She will load and transport a first batch of 32,000 tonnes of rock to the Borkum Riffgrund 2 offshore wind farm in Germany, where she will install scour protection layers onto the seabed for the 36 wind turbine foundations.
This load of 32,000 tonnes is the first of four to be loaded, transported and installed by the Simon Stevin. The last three batches will be provided by the Rekefjord quarry and loaded in Eemshaven (The Netherlands), closer to the Borkum Riffgrund site. The offshore wind farm Borkum Riffgrund 2 is located in the North Sea, within the German Exclusive Economic Zone (EEZ), at 17 km east of the border with the Netherlands, 34 km north of the island of Borkum and 54 km north-west of the German mainland. The wind farm will have a total export capacity of 450MW.