Published: 20 June 2018

20 June 2018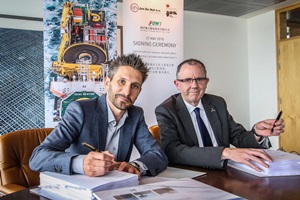 JDR Cable Systems (JDR) has been selected by Jan De Nul Group to manufacture and supply inter-array, export and land cables for Taiwan's Formosa 1 development. Phase one of the development is already operational with two offshore wind turbines generating a capacity of 8MW. The next phase will add another 20 installations with a total capacity of 120MW.
Commencing production in Q4 2018, JDR will deliver 21km of inter-array cable, 13km of export cable and a further 16km of land cable to transmit power from the shore to the local substation. The 33kV cables will be manufactured at JDR's facility in Hartlepool, UK, before being shipped to Taiwan for installation by Jan De Nul. JDR will also provide 26 offshore and 8 onshore technicians to provide cable installation support, cable accessory fitment and post-installation testing services, and will supply a range of accessories including the cable protection systems. Formosa 1 is being developed by Formosa Wind Power Co., a partnership of Macquarie Capital Group Limited (50%), Orsted AS (35%) and Swancor Renewable Energy Co. Ltd (15%) and the project is targeted for completion in 2019.