Published: 09 April 2019

09 April 2019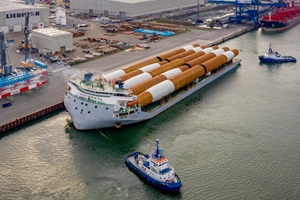 All 20 foundation monopiles of the Formosa 1 Phase 2 offshore wind farm (OWF) have left the EEW SPC yard in Germany onboard of two heavy load transport vessels. Both vessels set sail to Taichung port, the marshalling harbour for the OWF project in Taiwan.
Now that these components for the OWF construction are mobilised, the actual installation operations on site can be kicked off very soon. After having appointed Taichung Port as marshalling harbour for the project, Jan De Nul set up its local supply chain, which includes quarry rock production for the foundation scour design, rock load-out operations, storage and transport of the foundation structures, installation of transition joint bays and land cables installation. Formosa 1 Phase 2, the contract awarded to Jan De Nul Group, concerns the extension of the existing Formosa Phase 1 OWF adding twenty 6MW turbines with a total output of 120MW. Jan De Nul's scope entails the procurement and installation of the WTG foundations, including scour protection and cables. Construction will be completed in 2019.