Published: 03 June 2021

03 June 2021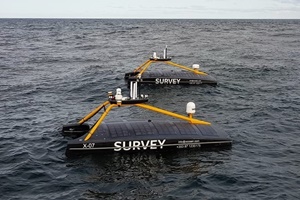 Two uncrewed vessels remotely controlled from shore have travelled up to 40km offshore into the North Sea to undertake survey work for Berwick Bank and Marr Bank Offshore Wind Developments, owned by SSE Renewables.
The XO-450 Uncrewed Surface Vessels (USVs), owned and operated by Xocean, performed multiple nearshore and offshore cable route surveys in water depths ranging from 0m to 60m. Onshore support was provided by local personnel from Marine Quest. Throughout the survey, the data collected was monitored from shore in real-time. The surveys allowed the project team to map a previously unknown rock ridge, located on the seabed and identify an alternative path for export cables. Identifying this alternative route early has ensured that there is no requirement for potentially intrusive measures on the rock ridge.
The proposed Berwick Bank and Marr Bank wind farms would be located in the outer Firth of Forth, over 49km and 40km, respectively, from the East Lothian coast. The Berwick Bank project is expected to be 2.3GW and comprise of up to 242 offshore wind turbines. Marr Bank is projected to be 1.85GW.